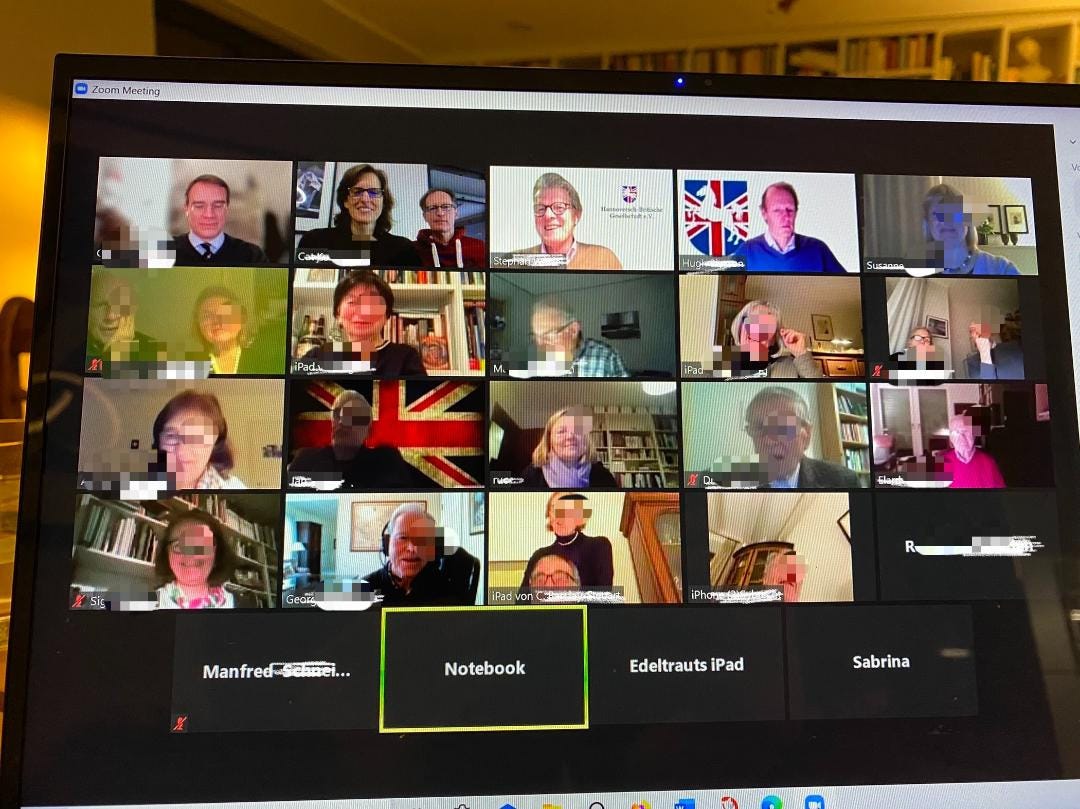 Hi! Happy to see you here!
Would you like to join us?
Poloturnier, Gin Tasting, Last Night of the Proms, Wine & Dine, Queen's Birthday, London Weekends... Als Mitglied der HBG werden Sie zu allen Veranstaltungen eingeladen und erleben viele tolle Events in netter, gut gelaunter Gesellschaft. Wir organisieren exklusive Vorträge, Ausflüge, Besuche der verschiedensten Veranstaltungen und Ausstellungen, Fachvorträge auf hohem Niveau (auf Englisch und Deutsch), gemeinsame gesellige Abende und vieles mehr. Zudem erhalten Sie unseren Newsletter und werden zu unseren Online-Jour fixes in entspannter Runde eingeladen. Als Mitglied der HBG lernen Sie anglophile Gleichgesinnte kennen und Sie haben a lot of fun!
Aufnahme
Als Mitglieder heißen wir alle willkommem, die die Ziele der Gesellschaft unterstützen (natürliche und juristische Personen). Um Mitglied zu werden, schicken Sie uns den ausgefüllten Aufnahmeantrag. Download HIER.
Sehr gerne können Sie für ein erstes persönliches Kennenlern-Gespräch mit einem der Vorstandsmitglieder direkt Kontakt aufnehmen - die Namen und Kontaktmöglichkeiten finden Sie HIER. Natürlich bieten wir Ihnen die Möglichkeit, erst einmal einige unserer Veranstaltungen zu besuchen und sich dann zu entscheiden. Auch dafür sind die Vorstandsmitglieder Ihre Ansprechpartner bzw. Ansprechpartnerinnen.
Jahresbeiträge
Schüler/-innen, Auszubildende, Studierende, Menschen ohne eigenes Einkommen: € 20
Erwachsene: € 60
Paare und Familien: 90 €
Firmen: € 200

Den Mitgliedern, die freiwillig einen höheren Beitrag als Spende leisten, danken wir für ihre Großzügigkeit!

HIER finden Sie die Satzung der Hannoversch-Britischen Gesellschaft e.V.
Would you like to join us?
Polo Tournaments, Gin Tasting, Last Night of the Proms, Wine and Dine, Queen's Birthday, London Weekends… As a member of the HBG you will be invited to all these exclusive events which you can experience in great company. We organise one-off presentations, trips and visits to varying events and exhibitions, specialist high standard talks (in English and German), enjoyable social evenings and lots more. Additionally you will receive our Newsletter and will be invited to join our relaxed online Jour-Fixe meets. As a member of the HBG get to know other Anglophiles and together have a lot of fun!
Registration
As members we welcome all those whose wish to support the society, natural as well as legal person. To become a member, please complete and then return the registration form. Download it here….


If you would like to make direct contact with one of our committee members first in order to get to know us and maybe ask a few questions, their names and contact details may be found HERE. We also offer you the chance to attend some of our events first before deciding to join. Please get in touch with us!
Annual Costs
Pupils / Students: € 20
Adults: € 60
Couples, Families: 90 €
Firm / Legal Person: € 200


Members who voluntarily pay more are warmly welcomed, and we thank them for their generosity!

The Rules of the Hannoversch-Britische Gesellschaft may be found HERE (sorry, German version only).
Write us - we're happy to hear from you!